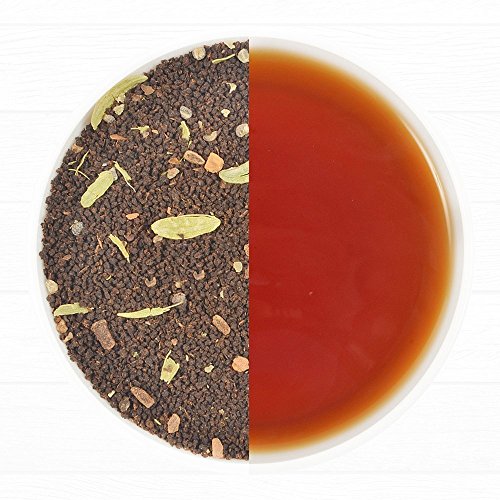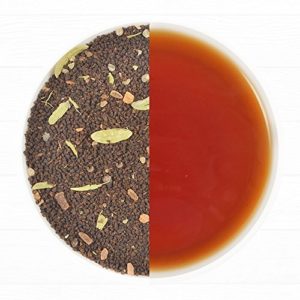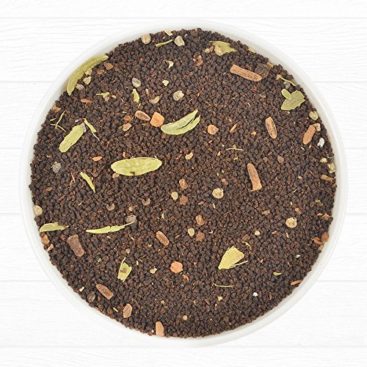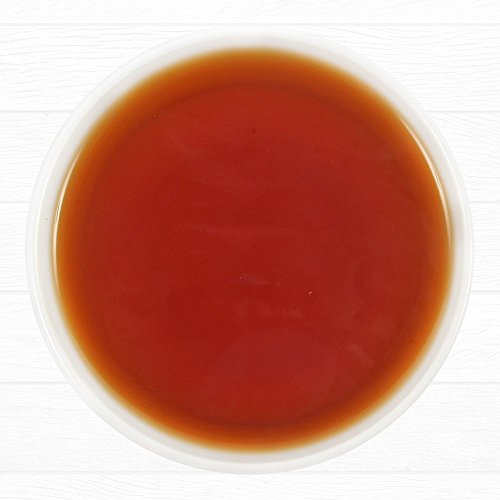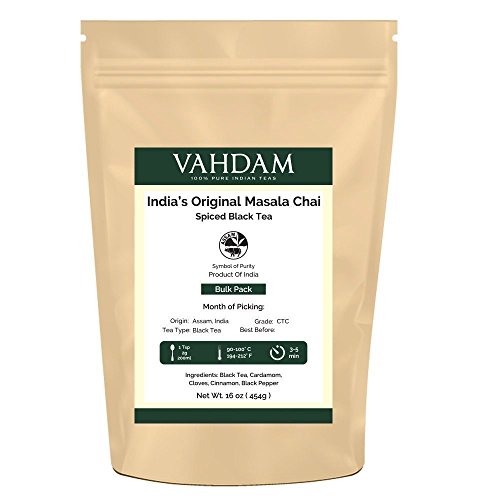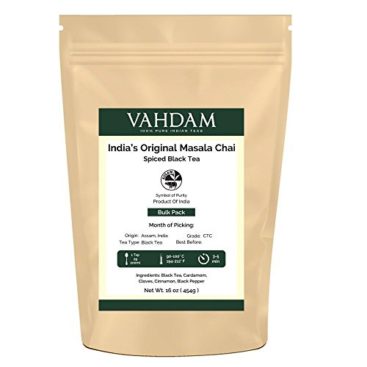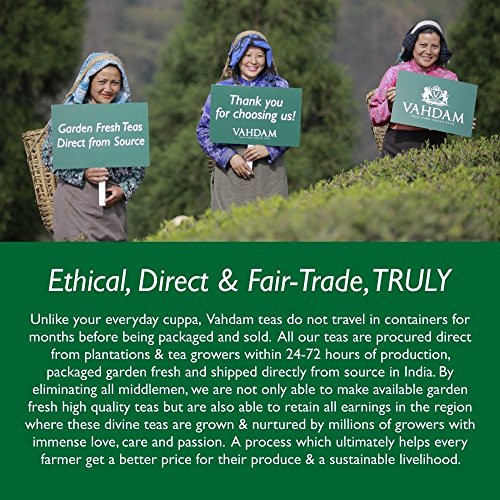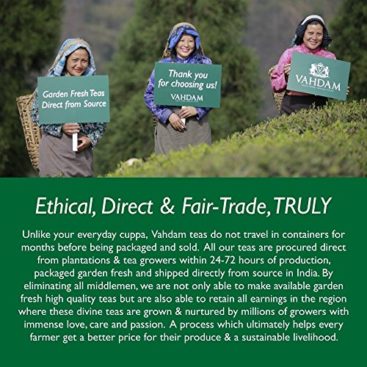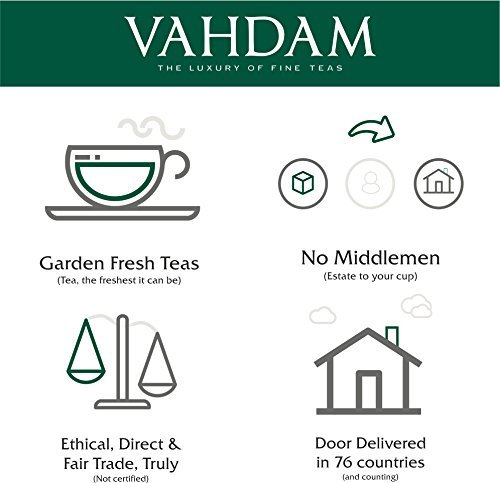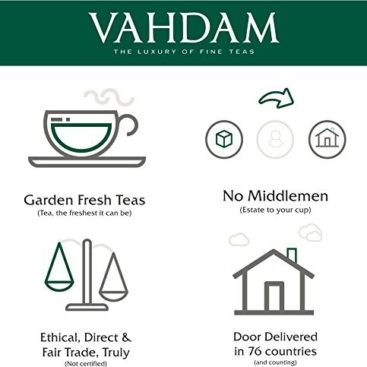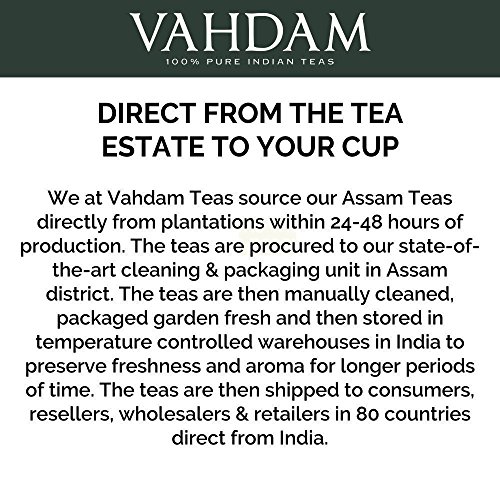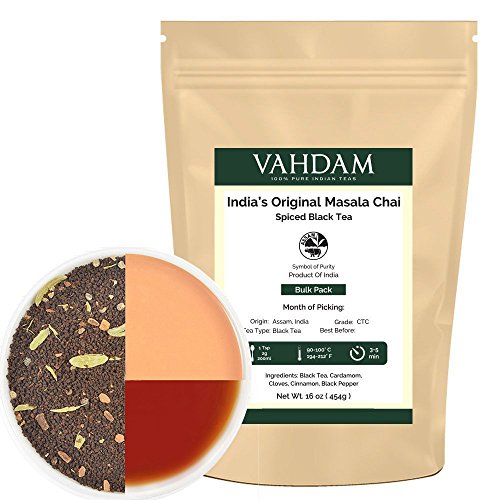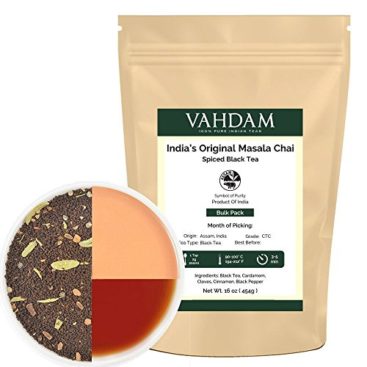 India's Original Masala Chai Tea (200+ Cups), 100% Natural Cardamom, Cinnamon, Cloves & Black Pepper blended with Black Tea, Ancient Indian House Recipe, 16-ounce Bag
$32.95
(as of 05/29/2017 at 21:02 UTC)
Description
ANCIENT INDIAN MASALA CHAI TEA BLEND WITH FRESH INDIAN SPICES

Widely distinctive from the Chai tea blends produced in western countries, the VAHDAM original Indian masala chai tea blend stands out due the superior and distinctive properties of spices grown in India. This strong and full-bodied tea is characteristic of an exotic flavor of fresh cardamoms combined with delicate notes of cinnamon, black pepper and clove. Traditionally prepared only with milk, this Chai tea can also be served straight.

A BRAND WITH A DIFFERENCE

Based in India, VAHDAM is disrupting the traditional supply chain of tea. We procure garden fresh Darjeeling Teas direct from plantations within 24-48 Hours of harvest which are then immediately packaged to preserve freshness & flavor. All teas are shipped to consumers worldwide direct from our packaging factory at source in India. By cutting out all middlemen, we are able to make available the freshest quality tea at the best price, fastest. Plus, all our teas are certified to be 100% Pure by the Tea Board of India, Ministry of Commerce, Government of India. Taste the Vahdam Difference & decide for yourself.

30 DAY - 100% MONEY BACK GUARANTEE

If you dont like the tea, we will issue a 100% MONEY-BACK REFUND IMMEDIATELY, no questions asked. So go ahead, SHOP TODAY without hesitation.
Features
100% NATURAL MASALA CHAI TEA - Unlike most chai tea blends, this Best Selling Chai Tea is a blend of garden black tea with 100% NATURAL & REAL Cardamom, Cinnamon, Black Pepper & Cloves. No Added Flavours. No Preservatives. Only the Real Taste of Nature. Each pack makes 200+ Cups of Tea.
INDIA'S DELICIOUS ORIGINAL HOUSE RECIPE - Grown, blended, packaged & Shipped to Amazon Warehouses Direct from Source in India, this is the Traditional House Recipe of Chai Tea which is enjoyed in every Indian household for decades. Discover a delicious blend of tangy spices in every sip. Can be enjoyed with or without milk.
DIRECT FROM SOURCE & GARDEN FRESH - The Tea & Spices of this blend are sourced DIRECT from plantations within hours of harvest, blended & Vacuum Packaged at Source & Door Delivered to Amazon Warehouses Direct from India. Vahdam Teas have been now delivered to over 76 countries & is the World's First Vertically Integrated Tea Brand.
ETHICAL, DIRECT & FAIR-TRADE, TRULY - Everytime you drink Vahdam Teas, which is delivered to your doorstep direct from source without any middlemen, you help a farmer get a better price for their produce. Tea, as fresh as in the gardens.
SATISFACTION GUARANTEED - 100% MONEY BACK GUARANTEE - If you don't like the tea, we will issue a 100% REFUND Immediately. No Questions Asked. Yes, we are SO SURE, you will love the tea.